Hank Snow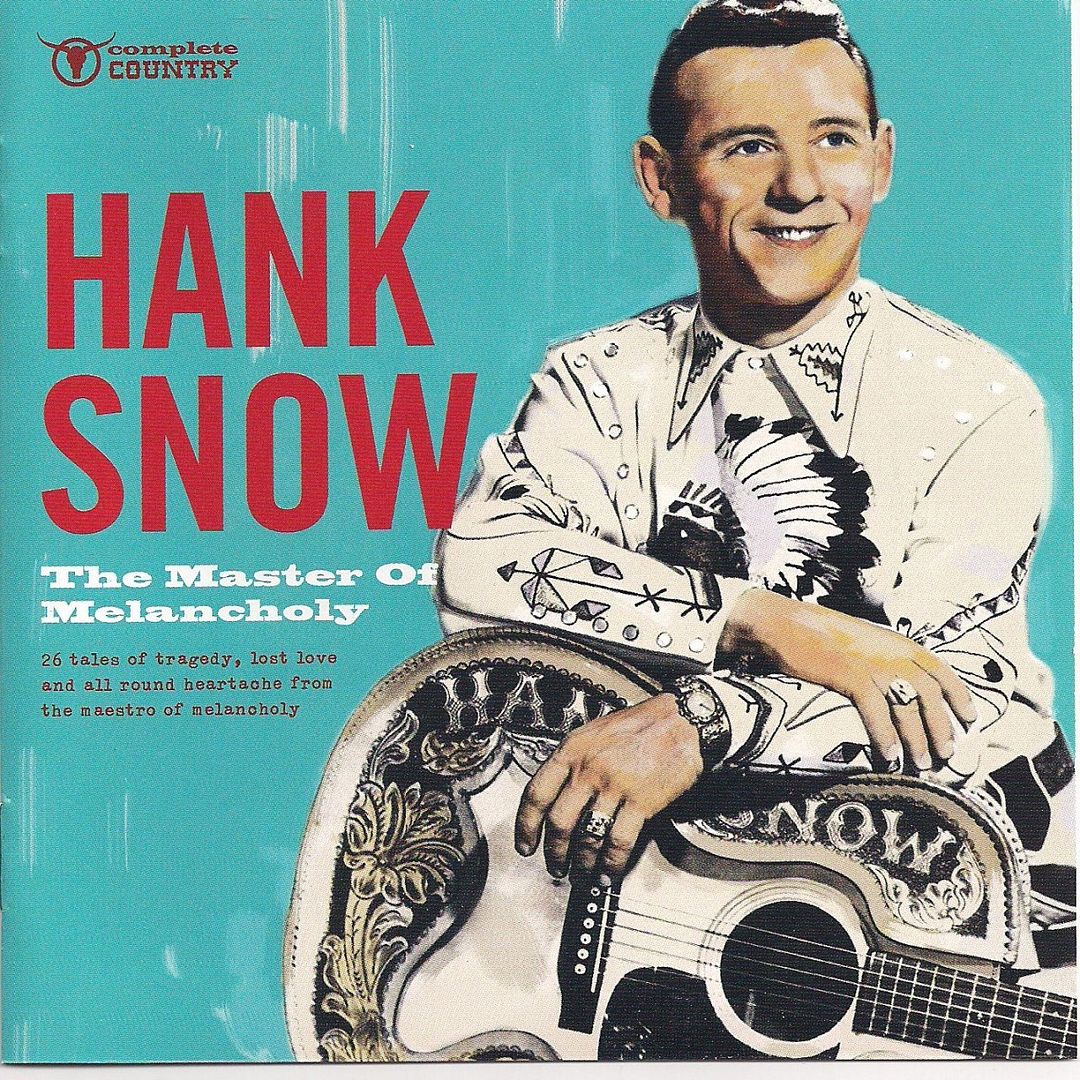 Clarence Eugene "Hank" Snow was born on May 9th, 1914 in the sleepy fishing village of Brooklyn, Queens County, on Nova Scotia's beautiful South Shore, just down the tracks from Liverpool.
As a boy, Hank faced many difficulties and shortcomings. He had to face the trauma of his parents' divorce at just eight years old and he was forced to stay with his grandparents. He then had to deal with an abusive grandmother who forbid him to see his mother. He regularly sneaked out at night and walked the railroad tracks to Liverpool where his mother was living. Not willing to return to his grandmother, who would often beat him for visiting his mom, he would sometimes seek shelter in Liverpool's railway station, now home of the Hank Snow Country Music Centre.
Both his parents had musical talent and Hank picked up his basic guitar-playing skills from his mother. In 1926, Hank went to sea as a 12-year-old cabin boy on fishing schooners based out of Lunenburg to escape his abusive step-father and never returned to school. With his first earned income he bought his first guitar, a T. Eaton Special for $5.95. While at sea, Hank would listen to Jimmie Rodgers on the radio and began to imitate him and entertain the crew. It wasn't long before Hank had picked up his own style.
His professional career started at CHNS Radio in Halifax in 1933 where he had his own radio show. He changed his name to "Hank, The Yodeling Ranger" because it sounded more western. Throughout the 30s and 40s he toured the Maritimes and Western Canada playing at county fairs and local radio stations.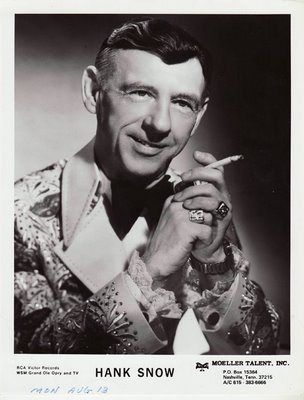 On September 2nd 1935 Hank Snow married Minnie Blanche Aalders, who stayed with Hank through all the hard, traveling years and beyond. Hank and Minnie had one son together, Jimmie Rodgers Snow (named after Hank's idol Jimmie Rodgers), who also traveled with them and eventually joined Hank on stage on numerous occasions.
In 1936 he made his first recording in Montreal with RCA Victor's Bluebird label and signed a contract that would last 47 years, the longest continuous contract in the history of the recording industry.
Ernest Tubb invited Hank to the Grand Ole Opry on January 7, 1950. He performed at the Opry for 46 years. His first few appearances received only luke-warm appreciation, until he wrote and recorded the song "I'm Movin' On", which became the top country song of 1950 and still holds the country music record for number of consecutive weeks at the number one chart position. This enabled him to finally buy the family's first home, the Rainbow Ranch, where Min still lives today, just outside of Nashville.
Hank Snow sold over 70 million records in his career that spanned 78s, 45s, extended 45s, LPs, 8-tracks, cassettes and compact discs.
Throughout his life he recorded over 100 LPs, including everything from hit parade material to gospel, train songs, instrumentals (alone and with Chet Atkins), tributes to Jimmie Rodgers and the Sons of the Pioneers, and recitations of Robert Service poems. He has always kept a warm spot in his heart for Nova Scotia, and he paid homage with his album "My Nova Scotia Home". He also recorded "Squid Jiggin' Ground" in honor of the fishermen he sailed with out of Lunenburg in his early youth.
He has been elected to eight different Halls of Fame, including the Country Music Hall of Fame of the United States of America (1979), The Songwriters Hall of Fame, The Canadian Country Music Hall of Fame and the Nova Scotia Music Hall of Fame. He also was voted Canada's top country performer ten times.
Hank Snow passed away 12:18 am, December 20, 1999 at his home in Madison, TN at the age of 85.
Thanks to Hank Snow.com.
MORE YOU MIGHT LIKE
TEST YOUR MUSICAL KNOWLEDGE