Dolly Parton
Dolly Parton was born on January 19th 1946. The songwriter, actress, who had the 1976 hit single "Jolene", and the 1981 US #1 single "9 to 5" also wrote "I Will Always Love You" which was a US Country #1 for her in 1974 and became a UK & US #1 for Whitney Houston in 1992.
Dolly Parton is clever. I've not read that anywhere in a press release, I've come to that conclusion by my-self. Most singers, songwriters are glad of a hit, top 20 would be good, top 10 even better and of course a #1 would be fantastic. After a chart topper, the pressure is off, you're successful, you've sold a million records, you're follow-up will also sell OK, even if its not as good. It's all money in the bank. Just think, all those radio stations playing your record, and you get paid each time it's aired.
Then you get the occasional lucky songwriter who will write a song that is massive. Lennon and McCartney did it; Jagger and Richards, Smokey Robinson, Bert Bacharach, Neil Diamond, Paul Simon, Bob Dylan, and Brian Wilson have all done it. Hang on a minute; I've just noticed that they're all men? No lady songwriters amongst them? Well there is of course Carole King and Dolly Parton. Mrs. Parton wrote one of the all time greatest ever ballads in "I Will Always Love You" which she wrote in 1973 and released it as a single a year later. The song became a Country #1 but didn't do that well in the pop charts. Dolly then re-recorded the song to be included on the soundtrack of The Best Little Whorehouse in Texas; this also topped the country charts.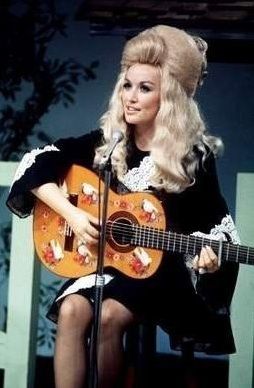 In 1992, Whitney Houston recorded the song for the soundtrack to The Bodyguard, her film debut after her co-star Kevin Costner played her Linda Ronstadt's 1975 version of "I Will Always Love You" from her album Prisoner in Disguise, (Houston was originally to record Jimmy Ruffin's "What Becomes of the Brokenhearted" but it was discovered the song was to be used for Fried Green Tomatoes). Houston version spent a record breaking 14 weeks a-top of the US becoming Arista Records' biggest ever hit.
Parton isn't just an old fashioned American entertainer / songwriter / singer who has had her own TV show, and has appeared in over a dozen films - she's a small industry! Pay a visit to Dolly parton.com and you're drawn into the singer's world.
Parton is a co-owner of The Dollywood Company, which operates the theme park Dollywood a dinner theatre, Dolly Parton's Dixie Stampede, and the waterpark Dollywood's Splash Country, all in Pigeon Forge. The Dixie Stampede which is a very pleasant looking dinner attraction which by the looks of things also involves horses pulling carts, horses wearing feathers and horses for kids to ride after you've tucked into your rib-eye steak and corn on the cobb. There isn't just one of these dinners, there's three!
Her literacy program, Dolly Parton's Imagination Library a part of the Dollywood Foundation, mails one book per month to each enrolled child from the time of their birth until they enter kindergarten.
Like there're will never be another Elvis, or Michael Jackson, or Paul McCartney, their will never be another Dolly Parton. The entertainment world isn't geared up anymore for one artist to be so successful and enjoy a career in TV, film and charts as well as courting politicians and the rich and famous, which is sad, because it would very nice to have a few more Dolly Parton's in the world.
Neil Cossar
MORE YOU MIGHT LIKE
TEST YOUR MUSICAL KNOWLEDGE